CII BRIDGE AND ROAD INVESTMENT JSC (CII B&R)
Charter capital: VND 728.5 billion; CII contributes 51.35%
History:
The company was established in August 2014 as the result of the restructuring process of Lu Gia Mechanical Electric JSC. Currently, the company is managing projects related to roads and bridges development that CII transferred, including: the Saigon Bridge 2 project, the Hanoi Highway Expansion project, the Phan Rang – Thap Cham By-pass project (the section through Ninh Thuan province), the Lu Gia Mechanical Electric JSC, and the Rach Mieu Bridge BOT Limited Company.
Mission:
CII Bridge & Road's establishment marked an important landmark for CII. The company effectively implements and operates bridges and roads projects that CII develops, and thus, from there, creates favorable conditions for CII to perform its Holdings company's responsibilities.
CII B&R's short-term mission is: to specialize in roads and bridges investment; to receive CII's existing roads and roads projects to operate; to create conducive conditions for new projects' development; to establish new investment channels into bridges and roads sector; to attract investors with technology knowledge, expertise, and financial capabilities to increase investment flow and investment efficiency in the  infrastructure sector; to participate in new bridges and roads investments together with CII.
CII B&R's long-term development strategy is to become a leading enterprise in transportation infrastructure investment and operations in Vietnam, to serve as a reputable Vietnamese brand to attract funds from domestic and overseas investors into transportation infrastructure development, to leverage on strategic partners' expertise to create modern and sustainable infrastructure developments.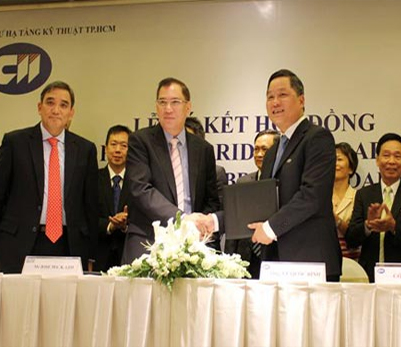 Company Name: CII BRIDGE AND ROAD INVESTMENT JSC
Ticker (HOSE): LGC
Address: 70 Lu Gia St., Ward 15, District 11, Ho Chi Minh City
Phone: (84-8) 386 882 39
Fax: (84-8) 386 881 89
Website: www.ciibr.com.vn
Email: lgc@lugiaco.com.vn
SAIGON WATER INFRASTRUCTURE JSC (SII)
Charter Capital: VND 583.7 billion. CII currently owns 56% but will own 51% of the company on a fully-diluted basis.
History: The company is formerly known as the Saigon Real Estate Infrastructure Company. In February 2013, the Company renamed to Saigon Water Infrastructure JSC and focuses exclusively on the water sector.
Mission:
Currently, the company is carrying out the following investment activities:
Investment in clean water provision plants such as Tan Hiep Water Plant 2, Pleiku Water Plant, etc.
Preparation for investment in the project on wastewater reduction for zone 6, the project on water distribution network in Tan Hoa area, and the project on water distribution network in Cu Chi District.
Investment in water provision companies in Dong Nai, Can Tho, An Giang, Gia Lai, Lam Dong, and Long An provinces, and the Thu Duc Water BOO JSC.
The establishment of Saigon Water is of great significance to CII's long-term strategy to capture future's growth in the water infrastructure sector. Saigon Water's growth potential is huge, provided Vietnam's rapidly increasing demand for clean water to serve both industrial and personal use. The company will also invest in wastewater treatment, which is another urgent issue for Vietnamese big cities. The company's operations not only promise high economic returns, but will also leave positive impacts on society, through contributing to improving the natural ecology and the quality of life in Vietnam.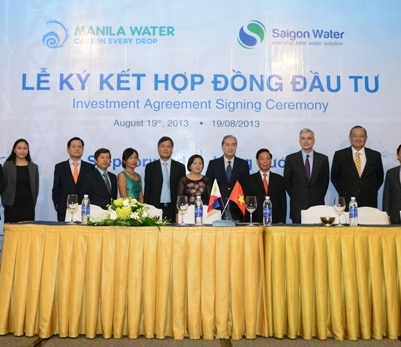 Company Name: SAIGON WATER INFRASTRUCTURE JSC (SII)
Ticker (HOSE): SII
Address: Stage 7, HD Bank Building, 58, Nguyen Dinh Chieu St., Da Kao Ward, District 1, Ho Chi Minh City.
Website: www.saigonwater.com.vn
CII ENGINEERING AND CONSTRUCTION JSC (CII E&C)
Charter capital: VND 415.5 billion. CII contributes 99.5%.
History:
In 2000: The Transportation Infrastructure Construction Investment & Trading Company 565 was established.
In 2005: The company changed into 565 JSC. The Civil Engineering Construction Corporation No. 5 JSC (Cienco 5) held 30% ownership.
In 2007: Ho Chi Minh City Infrastructure Investment Joint Stock Company (CII) became the largest shareholder, holding 30% ownership. 565 Company began to participate in construction works for projects that CII develops.
In 2009: CII increased its ownership to 49%
In 2013: the company became a CII's subsidiary, increased its charter capital to VND 140 billion, focused on transportation infrastructure construction and changed its name to CII E&C.
In 2014: increased its charter capital from VND 140 billion to VND 400 billion.
Mission: The company's main mission is to implement construction works for transportation infrastructure projects. Currently, the company is focusing on the following projects: the Hanoi Highway Expansion project, the Thu Thiem New Urban Area infrastructure project, the Cu Chi water networks project. The company is growing rapidly to meet the needs of many projects that CII is developing.
The establishment of CII E&C helps CII to better control the quality and progress of construction works for its projects, contributing to increasing the revenue that CII Group can collect from each project developed.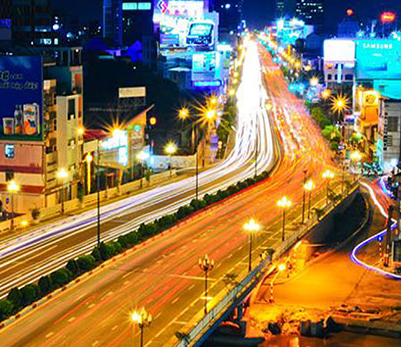 Company Name: CII ENGINEERING AND CONSTRUCTION JSC (CII E&C)
Address: 185 Hoa Lan St., Ward 2, Phu Nhuan District, Ho Chi Minh City
Phone: (84-8) 3512 2712
Fax: (84-8) 3512 0633
Website: www.ciiec.com.vn
INFRASTRUCTURE SERVICES ONE MEMBER LIMITED COMPANY (CII SERVICE)
Charter capital: VND 5 billion, of which CII contributes 100%
History of establishment: The company was established in May 2013 on the basis of adaptation of the Toll Way Collection Service Enterprise which was in operation since 2001.
Mission:
The company is mainly responsible for toll collection operation, roads and roadside greens maintenance works along the routes where CII is collecting toll, alongside other infrastructure services. The company is managing toll collection at 4 toll stations: Hanoi Highway station, Binh Trieu station, Thanh Hai (Ninh Thuan station), and DT741 station. Total number of employees at these stations is 226.
To ensure professionalism in toll collection activities, after a short time in operation, the company has installed automatic and semi-automatic toll collection and is one of the first players in the country to apply these technologies. Currently, the Company is working with Vietinbank to implement automated toll system ETC at the above 4 toll stations.
With the establishment of CII Services, CII's toll collection activities have been carried out more professionally, contributing to increasing CII's annual income. Since the main payback method for infrastructure project is toll collection, CII Services will continue to play an important role in CII Group.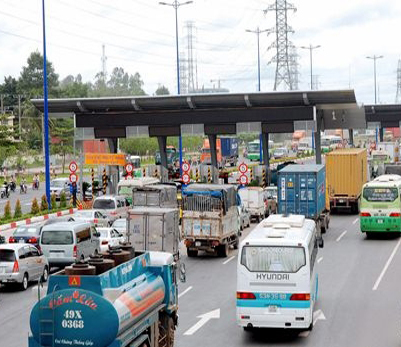 Company Name: INFRASTRUCTURE SERVICES ONE MEMBER LIMITED COMPANY
Address: 50 Ton That Dam St., Ward Nguyen Thai Binh, District 1, Ho Chi Minh City
Phone: (84-8)  3914 1904 – 351